Mobile Self Storage Sydney
Are you looking for a cheap mobile storage solution in Sydney? Look no further than Vmove Removals + Storage as your mobile storage solution. Relax when your precious items will be loaded into mobile storage units by our professional movers and then stored at our state of the art warehouse in Inner West. Prices are upfront and fixed, no nasty surprises.
Mobile storage at your door
If you need storage and you value your time Mobile storage is the solution for you. We will come to your home load everything into the mobile storage unit, bring it to our secure warehouse. When you need your items back, we will deliver your storage modules at you doorstep and unload them. You can't find it easier, than us doing the heavy lifting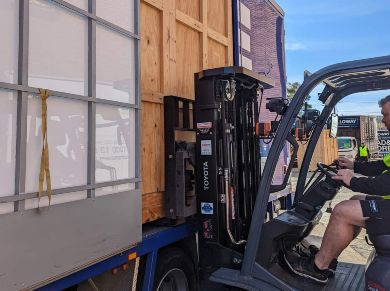 Secure & modern warehouse
We understand how valuable and important your belongings are. This is why we have spared no expense in creating a state-of-the-art storage location for all kinds of storage equipped with many features such as CCTV, fire alarms, 24/7 surveillance, advanced software application to run day to day operations.
Wide range of storage options
No matter what your needs are, we can provide you with multiple storage options. If you need to store an oversized item, we will gladly do so at our warehouse. Looking for a long term storage for your business archives or mobile storage boxes Sydney? No worries, we will give you a fantastic deal! In need for storage for few days? Consider it sorted.
Vmove Storage Box is owned and operated by Vmove Removals + Storage, which has been in the moving business for over six years. While the storage options with Vmove are relatively new, the years of experience that our team brings to the job are not.
We will make sure your belongings are in the expert and secure hands of our movers. We don't haphazardly pack modules to save on time. It is essential that we bring our knowhow to the packing procedure in order to be safe and efficient.
Your storage items will always be under surveillance, from the time they are loaded into the modules and during their time at our storage facility. We treat them like we would our own. We use moving blankets and other wrapping to make sure that your items will not be damaged during the moving process – just like a normal removals job.
Our customer service team are also standing by to assist you with any questions you may have from getting a quote, to setting up payments, and to organizing unloading. We give you a flexible two-day window in which to request the return of your modules, offering accessibility you won't find with other companies.
Our modules can contain up to 10 cubic metres of furniture and other household items. This means you can fit a small amount of stuff easily without having to hire an entire container, but if you do need more space for your mobile storage box Sydney, you won't break the bank hiring another one.
Just how much can you fit into 10cbm? Picture 80 standard size moving boxes (50 cubic centimetres each). A queen size bed is just under 2 cubic metres, a fridge is about 1cbm, a washing machine 0.70cbm, and a 3 seater sofa 1.30cbm. A dining table is 1.20cbm, while each dining chair is about 0.15cbm. A desk is 1 cubic metre, and a standard bookshelf is around half that.
To get an idea of how many modules you will need, fill out our quote form and our calculator will make that job easier. Knowing how many modules you need can help you with decluttering. If you are just over ten or twenty cubic metres, you can take stock of the things you want to store and decide whether or not to throw them away altogether or sell them.
Some customers want to compare our storage box prices with how much a removalist costs. Most of the time, using our storage modules costs far less than loading your belongings onto our moving trucks and offloading them at the storage facility. Especially considering the costs of putting everything back on the truck and redelivering it you. However, depending on the type and size of job, it may be worth getting a quote for both.
Competitive pricing for storage
Studios and 1-bedroom unit
(1 or 2 Modules)
2 bedroom units
(2 or 3 Modules)

3 or 4 bedroom houses
(3+ Modules)
Store with us in Wolli Creek. Competitive Prices, fixed loading and unloading rates.
All prices include GST. The minimum storage is for 1 month. Storage contents insurance is charged additionally and can be requested through us.
Moving Within Sydney City
For all your moving needs within Sydney, we offer a comprehensive door-to-door service that is guaranteed to meet your needs in the most efficient way. Our services extend to all suburbs and regions within Sydney. No matter what your requirements are, we are the leading solution in the market when it comes to removalist services.
INTERSTATE & REGIONAL REMOVALS
We have moved customers from Sydney to Wollongong, the Blue Mountains, the Central Coast, and the Hunter region.  Our experience has shows us that your moving budget and expenditure can be significantly reduced by planning it and scheduling it efficiently. For regional NSW moves, we charge hourly until the return to Sydney.  This means there are a lot of things that you can do to make the most of your time and money. Organizing and sorting your belongings before scheduling an inspection or a moving service with the removalist team can ensure that the fixed quote is within your budget or help us minimize work and get the job done quickly. 
To book a fixed quote inspection please email book@vmove.com.au requesting a fixed quote inspection, please include your availability for the inspection, your pick up suburb and which suburb you are moving to, for example Leura, Cessnock or Figtree.  We will schedule a free appointment to see you as soon as possible, talk to you face-to-face about your moving needs and give you a fixed quote with no obligation to book us.
Most Common Moving Questions
There are many storage options in Sydney from garages, units, cages, modules, containers, pods and taxi boxes. Storage prices vary a lot depending on the size, volume and other specific requirements you may need.
The cheapest storage is through private sellers such as space in a garage which can be as low as $10 a week. However, often this is not secure and can also be exposed to dirt and other environmental hazards. Larger storage units with 24-hour surveillance, 24-hour access, insurance, can go up to $1000 a month.
When you get quotes for storage it's best to decide what you need first and what your priorities are. Do you need short term or long-term storage? Will you need to have easy access to your storage? Are you storing valuable items which will need good insurance cover? Then get a few quotes from storage providers who can provide the services you need and compare them.
Getting a storage unit is worth it if you are storing items you will eventually take out of storage and use. Customers who are temporarily overseas, are renovating and are in between moving out of one home and into another definitely benefit from having a safe and clean storage unit.
There are some customers, however, who simply store items they have no space for and that they don't really need. They sometimes store items for decades, never take anything out and when it is time to empty the storage, they end up throwing most things away after spending thousands on yearly storage fees. If you are storing only because you need extra space consider other options such as giving items away, selling them or disposing of them responsibly.
This depends on how many items you need to store but here is a rough guide.
For a studio apartment/half a garage – 13 cubic metres
For a 1- or 2-bedroom home or a whole garage – 25 cubic metres
For a 3- or 4-bedroom home – 40 cubic metres.
The dimensions of the unit will depend on the type of items you are storing.
There have been cases of storage units being broken into, though this is rarely the case. Prevent this by ensuring you choose a storage company that has secure storage. Signs of a secure storage building are: surveillance cameras, good lighting, whether it is well kept, how the units are accessed (lock and key or via an access code) and staff policies. In any case make sure that the storage facility and/or yourself are covered for theft insurance so you can be compensated in the event of a theft.
You should not put anything perishable in storage such as food. Not only will it rot, but it may attract vermin. You must not store any dangerous, environmentally hazardous, flammable, or explosive goods either.
payments stop and storage fees are outstanding we will then pursue the debt possibly using debt recovery methods that may be highly inconvenient for the customer.
If you let us know that you have no intention of picking up your items or continuing to pay for storage, we will charge a disposal fee to take your items to the tip. This may be far more expensive than picking up the items yourself and could start at $750 depending on what the items are.
Unpaid storage may or may not go on credit depending on the size of the debt and whether the storage company decides to act against you for unpaid storage. Often storage companies will avoid a situation where a customer owes a sizable debt for storage by cutting off storage services, potentially repossessing your items and disposing of them if it is their terms of contract to do so.
In the event, that the debt has become so sizeable that they are compelled to act, they may register your payment default or take legal action which could result in a court judgement. If the storage company does this, it will affect your credit rating.
As long as the TV is properly packed, wrapped and carefully loaded into the storage unit it should be safe. If you have kept the original box and padding the TV arrived in, it is best to store it inside.
Clean the TV and all its components and cables thoroughly to prevent dust mites from damaging the TV. Store it in its original box and padding if possible. If not, make sure the TV is well wrapped to avoid dust settling inside it. In storage, the TV should not be on the ground but instead placed on table or shelf to avoid exposure to moisture from the floor and should be stored in a dry, cool environment without too many fluctuations in temperature.
Storing a TV any way that is not upright is bad! If you store it upside down or on its side that can create pressure on and damage the internal components and scratch the screen. Laying the TV down can also damage the screen.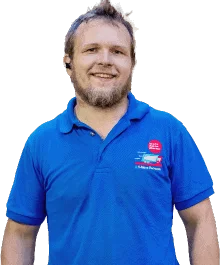 Looking to move places soon? Please fill out our quote form and our professionals will be more than happy to help you out!